Development of the brand "XSTEELIATM" for an advanced product by the Bar & Wire Rod Unit
Development of the brand "XSTEELIATM" for an advanced product by the Bar & Wire Rod Unit
NIPPON STEEL Corporation (President: Kosei Shindo: hereinafter "NSSMC") is striving to improve the development and functions of "XSTEELIA™", a high-end, advanced product group that strives to push the possibilities for steel to the limit under the business brand of the Bar & Wire Rod Unit, "SteeLinC™." In order for our customers to become familiar with and take advantage of our products further by visualizing the strengths of our high-end and fully-featured products, we have decided to comprehensively develop these products as the brand "XSTEELIA."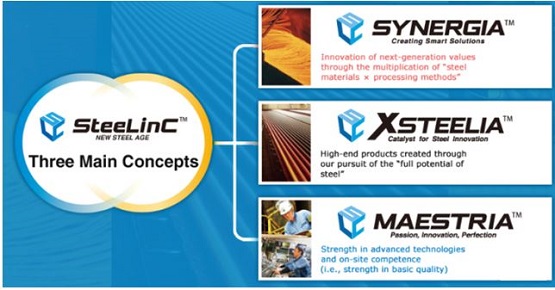 "XSTEELIA" is the general brand name of products that express four values of our original high-end and advanced products: 1) EXTREME PERFORMANCE (the ultimate form of steel created through our pursuit of steel's full potential); 2) EXCELLENCE (excellence that is achieved by making full use of the best technologies); 3) EXCEPTIONALITY (quality management that brings our products to the realm of perfection); and 4) EXPERTISE (reliability based on expertise and overall ability).

Our XSTEELIA product group was selected based on the criteria of 1) products that can be developed by ourselves or together with our customers and also widely supplied, and 2) products with that have unique quality performance that can be supplied only by our company. The product group consists of three merits: "high strength and light", "process omission and easy to process", and "environmental-friendliness". We will contribute to the improvement of product values for our customers and productivity through the best functions and performance of the XSTEELIA product group.
On the SteeLinC website, we introduce the features of our superior products and applications for use and processes in addition to the menu lineup of the high-function XSTEELIA products group. We are committed to developing advanced and high quality bar and wire rod products further, enriching the product lineup, and providing products and services that satisfy the requests of our customers in the future.
Reference: SteeLinC Website  https://www.nipponsteel.com/en/steelinc/index.html
Reference: XSTEELIA product group. https://www.nipponsteel.com/en/steelinc/products.htmll

Contact: Public Relations Center, General Administration Div. TEL: 03-6867-3419
Bar & Wire Rod Unit Main TEL: 03-6867-5512